Welcome to my blog!!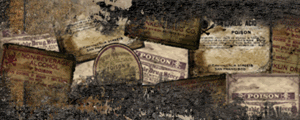 If you are participating in the hop you found me by way of the
Scraps of Darkness blog
! If you just popped in and would like to play head on over to the
Scraps of Darkness blog
and you can start from there. Our entire DT is involved and we are all giving out prizes, so you have a TON of chances to win and could even win multiple prizes!!!
On the Scraps of Darkness blog you can win one of two grand prizes!! The October and ever so yummy kit!! Just be sure to become a follower and leave a comment under the blog hop post as well as each individual DT blog in the hop!! International entries are welcome!! Here's the main kit!!
I am also giving away a yummy prize on my blog as well!! To be eligible to win my prize you must become a follower and leave a comment on this post!! International entries are welcome!! Here's my giveway!!
Four Dusty Attic Chippies, Two Distress Inks, Two Distress Stickles, Crackle Paint, and Glimmer Glam!!
Info on where to go next is at the bottom of my reveal post!!
So here we go with the incredible Scraps of Darkness October Halloween kit, called All Hallow's Eve! Every month I am blown away with each and this one is no exception!! It's packed full with papers from Fancy Pants, Authentique, and Moxxie!! The embellishments are fantastic and the coordinating add ons are to die for!!
Here is my first layout based on the sketch by Charlotte aka Suepup. Scraps of Darkness is hosting a horror movie challenge and so I decided to play along and scrap pics from the movie that scared me the most as a child..... The Shining!!
Here is the sketch!
Ok these girls creeped me out so much as a child! I distressed the photo a bit to make it look worn and old.
Lastly I have a page of my daughter, dressed as Red Riding Hood. I loved the new movie that came out and was inspired to do a shoot with the same theme. I'm also happy to say that when I took these photos they day wasn't so gloomy.